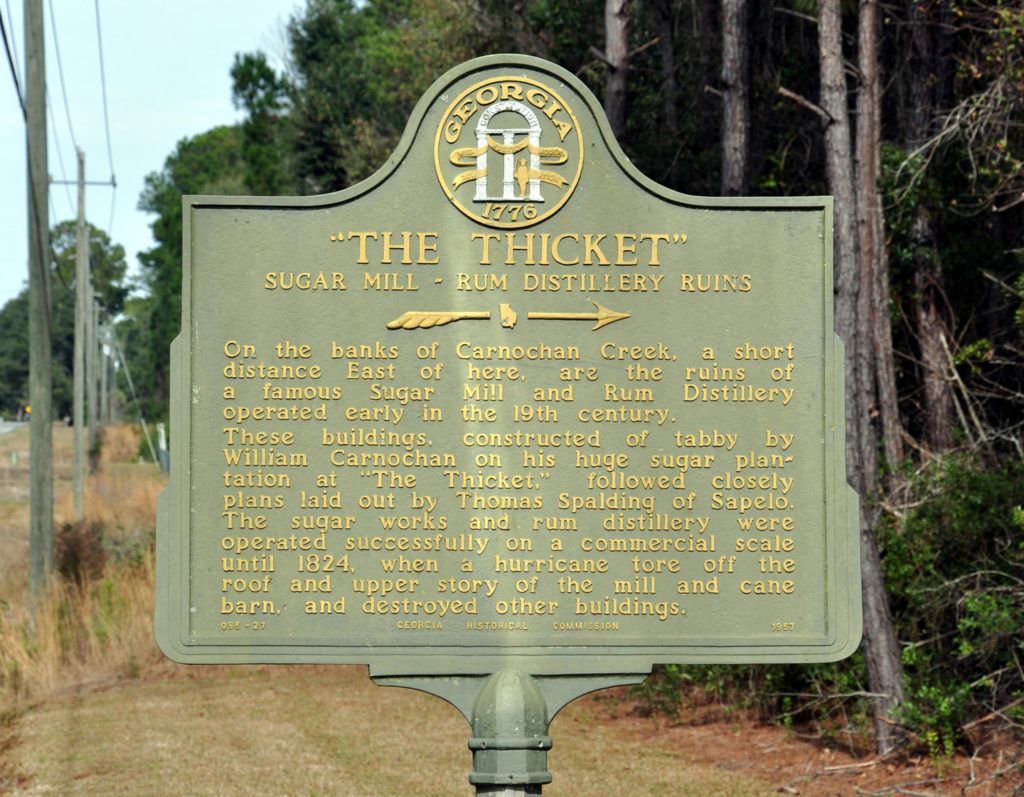 This week's #MarkerMonday examines the history of sugar and rum production in Georgia by looking at "The Thicket," Sugar Mill & Rum Distillery Ruins historical marker in McIntosh County. William Carnochan's plantation, known as "The Thicket," operated from 1816 to 1824 as a sugar mill and rum distillery. It was modeled after Thomas Spalding's sugar production plantation on Sapelo Island.
In early 18th century England, Parliament blamed spirits for increasing crime and poverty rates. Shortly after Georgia was founded as a colony, James Oglethorpe noticed the same negative effects of hard liquor that he witnessed in England. He tried to limit the availability of rum and promote the sale of beer and wine instead, but colonists were able to purchase rum from Native Americans and traders in South Carolina. To ensure the colonists stayed away from the detriments of liquor, the trustees passed "An Act to prevent the Importation and Use of Rum and Brandies in the Province of Georgia" in 1735.
The prohibition of liquor in colonial Georgia ended in the early 1740s and allowed the colonists to import rum and molasses. In the early 19th century, Thomas Spalding introduced sugar cane farming and production to Georgia, and it became a popular crop for coastal farmers. However, plantation owners also had to invest in a sugar mill to produce crystallized sugar and molasses from the sugar cane and a rum distillery to create alcohol from the molasses. After their enslaved workforce cultivated the sugar cane crop, it was transported to the mills for production. At "The Thicket," sugar was processed to produce rum until 1824, when a hurricane destroyed the mill. Only a few years later, in 1832, overall sugar production across Georgia slowed down due to lower tariffs on sugar imports and an increase in the worth of cotton and rice.
---
Explore the links below to learn more:
This Is Our History: The Thicket
Marker Monday: Sapelo Island
The Original Progressive Farmer: The Agricultural Legacy of Thomas Spalding of Sapelo by Dylan E. Mulligan
The Georgia Historical Quarterly has published several articles relating to rum distilleries and sugar plantations which can be accessed on JSTOR. If your library does not have access to JSTOR, you can go to www.jstor.org and create a free MyJSTOR Account.
"That Cursed Evil Rum": The Trustees' Prohibition Policy in Colonial Georgia