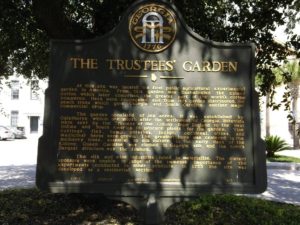 This week's #MarkerMonday addresses one of James Edward Oglethorpe's innovative ideas for the City of Savannah, the Trustees Garden. Shortly after establishing the colony of Georgia, Oglethorpe used ten acres of land east of the settlement to create the Trustees Garden. Belonging to the Trustees of the colony, the garden was modeled after medicinal and botanical gardens in England. Colonists used the garden to cultivate plants for use in medicines and plants for raw materials to be used in England, such as mulberry trees used in silk production.
The Trustees Garden also grew orange trees, apple trees, pear tree, olives, figs, pomegranates, and other fruits that flourished in the warm climate. England would use these products to cut down on expensive imports from Spain and the Mediterranean, and to decrease England's dependence on other countries for the production of goods. The Trustees also sent botanists to the West Indies and South America, where they procured vine cuttings, flax, hemp, potashes, indigo, cochineal, olives, and medicinal herbs to be grown in the garden. Despite some small success, the Trustees Garden failed in the 1740s due to the realities of the climate, lack of manpower on the ground, and London's inconsistent support to further the Trustees aspirations. In 1755, the site was developed as a residential area. Nevertheless, the Trustees Garden laid the groundwork for botanists of the end of the 18th Century.
---
Explore the links below to learn more about James Oglethorpe and the Trustee's Garden.
GHS is proud to house a significant collection of materials related to James Edward Oglethorpe and Georgia's colonial history that can be found by searching the GHS' online catalog.
James Oglethorpe is one of GHS' Featured Historical Figure for the 2016-2017 Georgia History Festival. Check out GHS' online learning materials.
Sophia's Schoolhouse's "Get to Know James Edward Oglethorpe" Videos
New Georgia Encyclopedia (James Oglethorpe)
New Georgia Encyclopedia (The Trustees' Garden)
New Georgia Encyclopedia (Trustee Georgia)
Coastal Georgia Botanical Gardens
Further Reading
The Georgia Historical Quarterly has published several articles about the Trustees Garden which can be accessed on JSTOR. If your library does not have access to JSTOR, you can go to www.jstor.org and create a free MyJSTOR Account.
Holland, James W. "The Beginning of Public Agricultural Experimentation in America: The Trustees' Garden in Georgia." Agricultural History Vol. 12, No. 3 (Jul., 1938), pp. 271-298. https://www.jstor.org/stable/pdf/3739633.pdf?seq=1#page_scan_tab_contents.
"Current Projects at Coastal Georgia Botanical Gardens: Trustees Garden." Coastal Georgia Botanical Gardens. http://www.coastalgeorgiabg.org/trusteegarden.html.
Sweet, Julie Anne. "The Misguided Mistake: The Trustees' Public Garden in Savannah, Georgia." Georgia Historical Quarterly 93, no. 1 (2009): 1-29. http://www.jstor.org/stable/40585113?seq=1#page_scan_tab_contents.
Hart, Bertha Sheppard. "The First Garden of Georgia." Georgia Historical Quarterly 19, no. 4 (1935): 325-332. http://www.jstor.org.libez.lib.georgiasouthern.edu/stable/40576402?seq=1#page_scan_tab_contents.