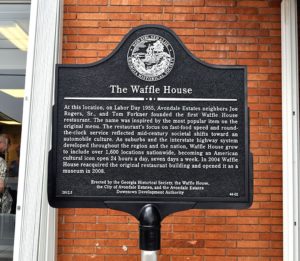 Today's #MarkerMonday is dedicated to Waffle House, which was founded sixty years ago today in Avondale Estates, Georgia. The iconic Southern business has since expanded to over 1,600 restaurants located in over 25 states. Despite its popularity and widespread success, Waffle House remains dedicated to its original premise: serving good food fast 24 hours per day, 365 days per year. The Federal Emergency Management Agency (FEMA) even uses a Waffle House Index to gauge the amount of storm damage in communities due to the restaurant's commitment to remaining open and serving as a refuge during natural disasters.
GHS is dedicated to telling the stories of iconic Georgia businesses, like Waffle House, through the Georgia Business History Initiative.
To find the location of the first Waffle House, read the full marker text and the Waffle House official website.