This month's #MarkerMonday posts celebrate the start of summer by focusing on moments in Georgia history that took place on our state's coastline.
---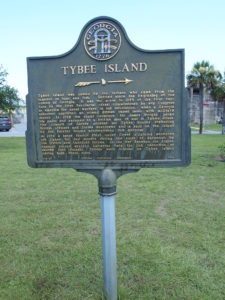 This week's #MarkerMonday highlights the history of Tybee Island, Georgia. The word Tybee is thought to be derived from the Euchee word meaning "salt." The first European exploration of Tybee Island was by the Spanish in the 16th century, followed by the French in 17th century. When General James Edward Oglethorpe founded the colony of Georgia in 1733, he established an outpost on the island to guard the mouth of the Savannah River and guide ships toward the port of Savannah. During the American Revolution, Tybee Island became a haven for British Loyalists, and a camp was established near the lighthouse. Before the 1779 Siege of Savannah, the French fleet anchored off the island's coast, using it as a staging ground for the attack. By the end of the war, the island served as an evacuation point for loyalists headed to the West Indies, Canada, and other British colonies.
During the Civil War, the United States Army troops erected batteries along the islands shoreline to supplement the fortifications at Fort Pulaski. Similarly, in the late 1880s, Fort Screven was erected on the north side of the island and was used to train soldiers during the World Wars. The late 1800s saw the rise of the Industrial Revolution and a new chapter began in Tybee Island's history  as a resort town. The island became a destination for people with asthma, allergies, and other ailments who sought clear, saltwater breezes to remedy their conditions. In 1887, the Central of Georgia Railway completed work on a rail line to Tybee Island to bring tourists and patients for the summer season. In the 1920s, U.S. Route 80, or Tybee Road, was completed, connecting Tybee Island with the mainland. As a result, Tybee Island experienced a building boom in houses and hotels. By 2017, the island boasted a year-round popular of 2,990.
---
Explore the links below to learn more about the history of Tybee Island.
GHS is proud to house several collection items relating to Tybee Island. This items can be viewed by searching the GHS collection online.
New Georgia Encyclopedia (Tybee Island)
Visit Tybee Island: Tybee Island History
TybeeIsland.com: Tybee History
ExploreTybee.com: History of Tybee Island, Georgia
River's End Campground: Ten Tybee Island Fact You May Not Know
Savannah Herald: African Americans on Tybee Island
National Register of Historic Places Map (Search "Tybee Island" to view all sites on the island listed on the National Register)
City of Tybee Island: Historic Districts of Tybee Island
Further Reading
Adams, James Mack. Tybee Island. Images of America. Charleston, SC: Arcadia Publishing, 2000.
Ciucevich, Robert A. Tybee Island: The Long Branch of the South. Charleston, SC: Arcadia Pub., 2005.
Ferreira, Katherine D. "Early History of Tybee Island." Savannah Images Project. Accessed April 17, 2018.
Related #MarkerMonday Posts
Tybee Lighthouse (Posted June 4, 2018)