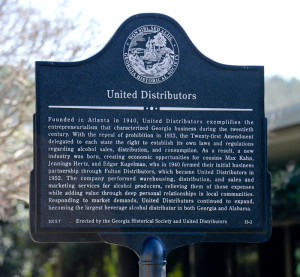 This week's #MarkerMonday highlights United Distributors, a beverage distribution company, headquartered in Smyrna, Georgia. Following the repeal of prohibition in 1933, it fell to each state to establish its own laws and regulations regarding alcohol sales, distribution, and consumption. In March 1935, prohibition officially ended in Georgia when Governor Eugene Talmadge signed the Alcoholic Beverage Control Act. In addition to repealing prohibition, the act called for the regulation and licensing of alcohol leading to the three-tier system that remains in use today. Using the three-tier system, suppliers (brewers, distillers, etc.) can sell to distributors, who in turn sell to retailers (stores, restaurants, bar, etc.). In 1940, Max Kahn founded the Fulton Distributors in Atlanta, serving as the second-tier in the three-tier system. Kahn's cousin, Jennings Hertz, joined him and ran the company after Kahn was drafted in to the military.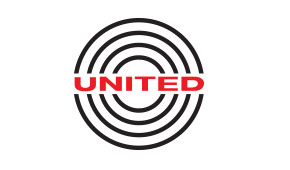 After acquiring a second distributorship, in Florida, another cousin, Edgar Kugelman, joined the company. Following the success of Fulton Distributors, the cousins opened Standard Distributors, Inc. in Atlanta in 1945.  During the 1950s, Fulton Distributor and Standard Distributors became known as Empire Distributors and United Distributors respectively. By 1980, the family-run distributorships numbered five total – three in Georgia and two in Florida. In 1982, the founding families divided ownership, of which the Hertz and Kugelman families retained United Distributors and the Kahn family retaining Empire Distributors. Throughout the 1980s, United Distributors continued to grow, acquiring new distributorships throughout Georgia. In 1992, the Hertz family bought out the Kugelman family's interests in United Distributors, and in 1999, the company's headquarters was moved from Atlanta to Smyrna.
---
Explore the links below to learn more about United Distributors and the history of prohibition and its repeal in Georgia.
GHS is dedicated to telling the stories of iconic Georgia businesses, like United Distributors, through the Georgia Business History Initiative.
New Georgia Encyclopedia (Temperance Movement)
GeorgiaInfo: This Day in Georgia History-Prohibition Ended
Digital Library of Georgia Blog: Prohibition in Georgia
United Distributors: Our Story
Marietta Daily Journal: United Distributors CEO Doug Hertz has spirited success
Prezi: United Distributors Timeline