In honor of the 2016-2017 Georgia History Festival, "A State of Innovation," the January #MarkerMonday posts will focus on Georgia businesses and the GHS Business History Initiative. Over the course of the month, these posts will highlight the impact of Georgia businesses on the state and national economies, and also explore how Georgians have influenced the larger economic landscape.
---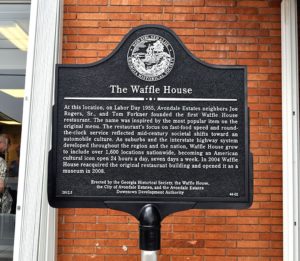 Today's #MarkerMonday highlights a Georgia business that specializes in "Good Food Fast," Waffle House. Neighbors Joe Rogers and Tom Forkner established the restaurant in Avondale Estates neighborhood in 1955. As business continued to grow, a second Waffle House opened its doors in 1957, with more to follow. Both Rogers and Forkner began working full time at Waffle House in 1961, as the company continued to grow into the restaurant chain focused on customer service and the short order concept it is today. Originally a regional restaurant known to the South, Waffle House began to expand across the United States under Joe Rogers, Jr.'s leadership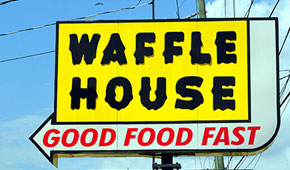 . The iconic Southern business has since grown to more than 1,600 restaurants located in over 25 states. Despite its popularity and widespread success, Waffle House remains dedicated to its original premise: serving good food fast 24 hours per day, 365 days per year. Since opening its doors in 1955, Waffle House as served over 1 billion cups of coffee, over 1 million orders of hashbrowns, and over 8 million waffles.
---
Explore the links below to learn more about Waffle House.
GHS is dedicated to telling the stories of iconic Georgia businesses, like Waffle House, through the Georgia Business History Initiative.
EHSToday Article: What Do Waffles Have to Do with Risk Management?
Originally published January 23, 2017.