To further explore this year's Georgia History Festival theme, "The United States Constitution: Ensuring Liberty and Justice for All," and in recognition of Black History Month, February's #MarkerMondays discuss amendments and laws within the context of the struggle for human and civil rights in Georgia.
---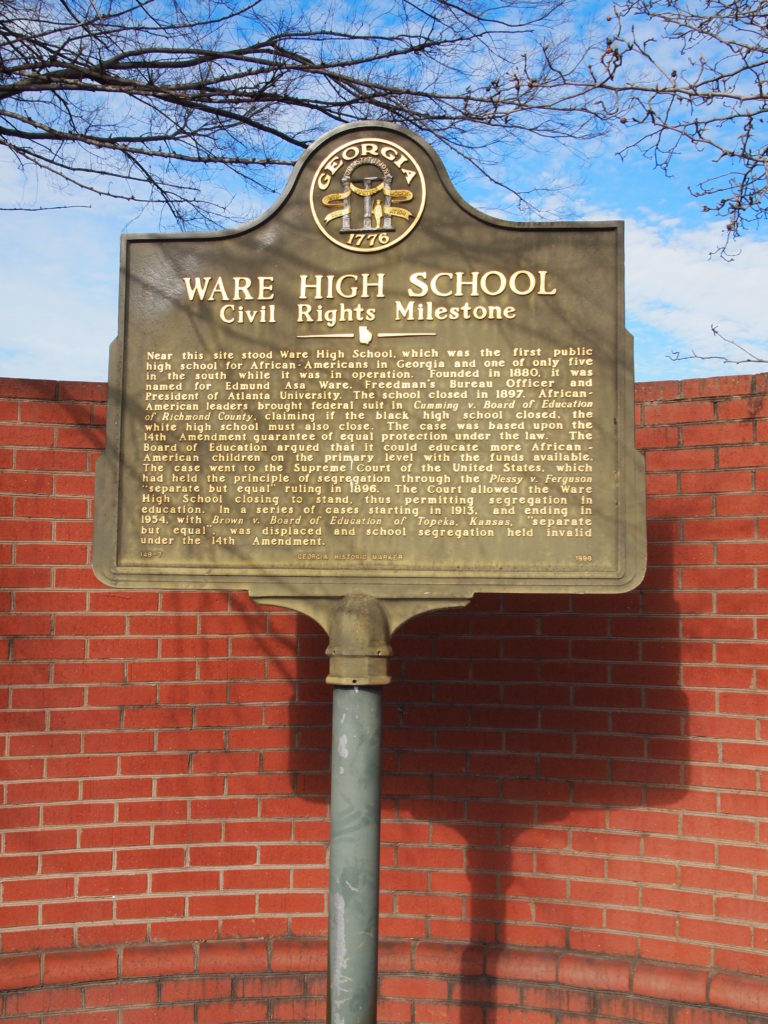 This week's #MarkerMonday highlights Ware High School, and interpretations of an 1872 Georgia public school law and the Fourteenth Amendment. In 1880, at the request of African-American Augustans and the recommendation of the outgoing superintendent, Ware High School became the first public high school for African Americans in Georgia. By 1893, the Board of Education resolved to close the school due to insufficient attendance. However, the African-American community rallied to increase enrollment and Ware High School re-opened with a record 50 students. The impact of Ware High School was felt far beyond Augusta, as many graduates went on to fill vital teacher positions in primary schools for African Americans throughout Georgia.
In 1897, the year after Plessy vs. Ferguson established the doctrine of "separate but equal" that supported legal segregation in the United States, the Richmond County Board of Education again decided to close Ware High School, contending that funds would be better spent on new primary schools for hundreds of unserved African-American children. Joseph W. Cumming, James S. Harper, and John C. Ladeveze in Cumming v. Richmond County Board of Education (1899), challenged the legality of funding two white private high schools without also funding an African-American high school under the provisions of an 1872 Georgia Law. The Superior Court of Richmond County ruled in favor of the petitioners.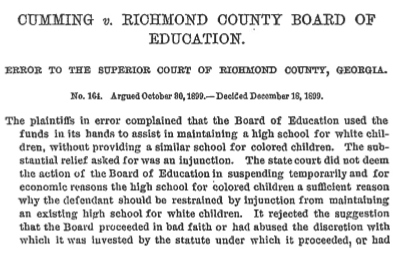 The Board of Education appealed the decision to the Georgia Supreme Court where the Cummings' representation argued that the Board of Education's actions violated the Fourteenth Amendment's equal protection clause, which was intended to stop discrimination against African Americans. However, the Georgia Supreme Court reversed the Superior Court's ruling, finding the argument an insufficient reason to restrain the Board of Education from maintaining existing white high schools. The Supreme Court of the United States made a similar ruling, deferring decisions on education funding to the state, and Ware High School remained closed.
The disparity between white and African-American educational resources under lawful segregation continued until after the 1954 Brown v. Board of Education decision.
---
Explore the links below to learn more about Ware High School, the Fourteenth Amendment, and Georgia's 1872 Public School Law.
Library of Congress "A brief historical sketch of Negro education in Georgia (1894)" p. 35-37.
Library of Congress "U.S. Reports: Cumming v. Board of Education, 175 U.S. 528 (1899)."
Georgia General Assembly Public Laws 1872 An Act to perfect the Public School System and to supersede existing School Laws. p. 9-20.
Encyclopedia Britannica "Cumming v. Board of Education of Richmond County"
Constitution Center: Amendment XIV "Citizenship Rights, Equal Protection, Apportionment, Civil War Debt"
Constitution Center: Article V "Amendment Process"