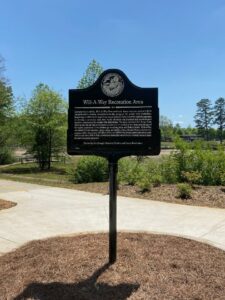 This week's #MarkerMonday highlights the Will-A-Way Recreation Area historical marker in Barrow County, the newest Georgia Historical Marker and first Georgia Historical Marker addressing disability rights. Will-A-Way Recreation Area was the nation's first comprehensive outdoor recreational facility designed for people with disabilities. Installed at Fort Yargo State Park, Will-A-Way Recreation Area opened in 1971.
The Federal Bureau of Outdoor Recreation was officially established with the passage of the National Outdoor Recreation Act of 1963 under the Department of the Interior. This followed an earlier study by the Outdoor Recreation Resources Review Commission, that identified the importance of conserving land and creating recreational places. The study found that while there was a considerable amount of public recreation areas available, they were not easily accessible to people living in major cities. City dwellers did not live close to available land, so future recreation spaces needed to be placed strategically near urban areas, where more people could take advantage of them through day trips.
Fort Yargo State Park was selected as the site of the nation's first outdoor recreation facility for people with disabilities, because 48 percent of Georgia's population lived within a two-hour drive from the site. Today, Fort Yargo State Park is about an hour from Metro Atlanta—home to roughly 57 percent of Georgia's population. According to "Outdoor Recreation Facilities for the Disabled," a 1969 report by the Georgia Department of State Parks that outlined the plans for Will-A-Way Recreation Area, around 600,000 people in Georgia were considered disabled. The goal of Will-A-Way was to provide the same experiences found at other sites but without the obstacles that made them more difficult for people with disabilities to enjoy. Inspired by the phrase "where there is a will, there is a way," Will-A-Way served as a demonstration project for other organizations to understand better how they can improve accessibility to recreational activities in their own spaces.
---
Explore the links below to learn more:
Outdoor recreation facilities for the disabled [1969]
Camp Twin Lakes – Will-A-Way
Encyclopedia Britannica – Forestry, Development of U.S. Policies