In honor of Independence Day, the #MarkerMonday posts for the month of July will shine a spotlight on Georgia during the Revolutionary War.
---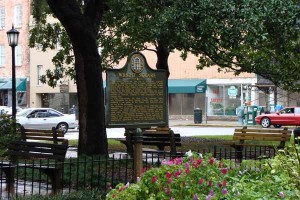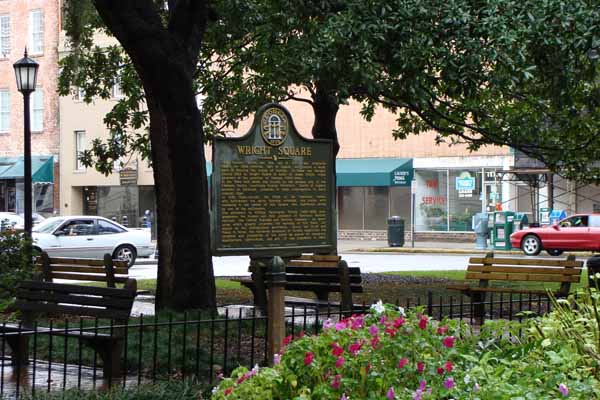 This week's #MarkerMonday highlights the life of Sir James Wright, Georgia's last royal governor. Wright was born in London, England, to Robert and Isabella Wright in 1716. In 1730, Wright traveled to South Carolina when his father became the colony's chief justice. By 1740, Wright was a practicing attorney in South Carolina and was also appointed acting attorney general for the colony. In 1747, Wright became attorney general of South Carolina, holding the position for ten years before becoming the colonial agent for South Carolina in London. In 1760, he was appointed to replace Henry Ellis as royal governor of Georgia. As governor, Wright worked to expand Georgia's frontier. In 1763, he negotiated with the Creek and Cherokee nations for the first of two large land grants, increasing his popularity among colonists. Around this time, the name of Percival Square in Savannah was changed to Wright Square to honor the governor.
Wright also became one of the colony's principle land owners, purchasing eleven plantations. When Great Britain issued the Stamp Act in 1765, Wright worked to enforce the Act, and Georgia was the only colony where the revenue stamps sold. Wright's popularity and administrative ability, helped delay rebellious activity in Georgia in the early 1770s. However, with increasing dissatisfaction in colonial rule, in January 1776, a group of patriots issued an arrest warrant placing the governor under house arrest. Wright escaped to London on the HMS Scarborough. After the British captured Savannah in December 1778, Wright was reinstated as governor until 1782, when the royal government evacuated Savannah on July 11, 1782. After returning to Great Britain, Wright headed a board of American Loyalists seeking compensation for losses resulting from the American Revolution. Wright died in London on November 20, 1785, and is buried at Westminster Abbey.
---
Explore the links below to learn more about James Wright and the American Revolution in Georgia.
GHS is proud to house a collection of Sir James Wright's papers, containing letters, proclamations, and reports written while Wright was governor of Georgia.
Featured Historical Figure: James Wright
Georgia and the American Revolution: Governor James Wright (contains a link to a transcript of Wright's arrest warrant)
Today in Georgia History (James Wright)
New Georgia Encyclopedia (James Wright, 1716-1785)
New Georgia Encyclopedia (Revolutionary War in Georgia)
Westminster Abbey: Sir James Wright
Find-A-Grave: Sir James Wright
Our Georgia History: James Wright
This Day in History: Georgia's royal governor is arrested
This Day in History: Georgia's government escapes imprisonment
Further Reading
Wright, James. "Answers to queries sent by the Lords of Trade [in] 1761, 1762". Southeastern Native American Documents, 1730-1842. Digital Library of Georgia Database. Accessed May 16, 2018.
Brooking, Greg. "Guest Post: Sir James Wright and Jenny, His Free "Black Servant"." The Junto: A Group Blog On Early American History(blog), January 28, 2014. Accessed May 16, 2018.
Kenneth Coleman, The American Revolution in Georgia, 1763-1789 (Athens: University of Georgia Press, 1958).
James F. Cook, The Governors of Georgia, 1754-2004, revised and expanded ed. (Macon, Ga.: Mercer University Press, 2010).
The Georgia Historical Quarterly has published several articles related to Sir James Wright and the Revolutionary War in Georgia which can be accessed on JSTOR. If your library does not have access to JSTOR, you can go to www.jstor.org and create a free MyJSTOR Account.
Related #MarkerMonday Posts
Gov. John Houstoun (Posted October 23, 2017)
Independent Presbyterian Church (John J. Zubly) (Posted August 28, 2017)