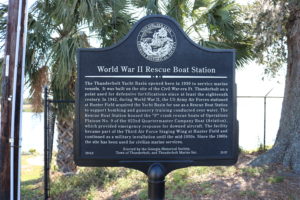 This week's #MarkerMonday explores the history of the WWII Rescue Boat Station located along the Wilmington River in Thunderbolt, Georgia. Built on the site of the Civil War-era Fort Thunderbolt, the Thunderbolt Yacht Basin opened in 1939 to accommodate the growing popularity of yacht racing in the area. After the United States entry in World War II, the United States military personnel at Hunter Army Airfield began to use the Yacht Basin as a rescue boat station. The rescue station housed the "P" crash rescue boats, meant for patrolling waters and to rescue the crews of aircrafts that crashed into the water. The "P" boat was a popular craft that was adapted from the yacht design ranging from 63-104 ft. in length and was outfitted for a small crew and a dispensary, clinic, for injured aviators, and an anti-aircraft gun. Operations Platoon No. 9 of the 922nd Quartermaster Company Boat (Aviation) used the station to house their boats and acted as support during over-water bombing and gunnery training.
In the 1950s, the rescue station became part of the Third Air Force Staging Wing at Hunter Army Airfield, who were responsible for providing air defense and often flew antisubmarine patrols for the southeastern United States during World War II.  After World War II, during the 1950s, the Third Air Force oversaw tactical air support primarily between the United States and the United Kingdom.  Over the years, the Third Air Force continued to have strong connection with the United Kingdom and Europe as a whole. In December 2006, the Third Air Force assumed it present day role as headquarters for United State Air Force in Europe.
Top Image taken from larger image of Yacht Racing at Thunderbolt ca. 1934. Image Courtesy of the Georgia Historical Society, Foltz Photography Studio Collection, MS 1360-26-21-02.
---
Explore the links below to learn more about the Thunderbolt Rescue Boat Station, "P" crash boats, the Third Air Force, and World War II in Georgia.
New Georgia Encyclopedia (World War II in Georgia)
Thunderbolt, Georgia: A Brief Historical Look
The Thunderbolt Museum Society
Thunderbolt Marine, Inc.: History
Business in Savannah- Portside: Saving a Piece of Thunderbolt History
Army Air Corps Museum: 3rd Air Force
United State Air Force: 3rd Air Force
United States Air Force: Third Air Force Fact Sheet
To see a restored "P" crash boat follow this link. The P-520 featured in the images served along the West Coast of the United States.
Further Reading
Spracher, L. City of Savannah, Research Library and Municipal Archives. "Chatham County Military Service in World War II." February 2009. Revised March 3, 2009.  Accessed July 20, 2017. http://www.savannahga.gov/DocumentCenter/View/1792
Spracher, L. City of Savannah, Research Library and Municipal Archives. "World War II on the Savannah Waterfront in the Atlantic Theater of Operations: Wartime Production and Service in Savannah." August 2008. Accessed July 20, 2017. http://www.savannahga.gov/documentcenter/view/1793
Related Marker Monday Posts
Marker Monday: SS Oklahoma and Esso Baton Rouge Attacked by U-123 (Posted April 3, 2016)
Marker Monday: U.S.S. Harris County (Posted June 27, 2016)
Marker Monday: Birthplace of the 8th Air Force (Posted January 25, 2015)