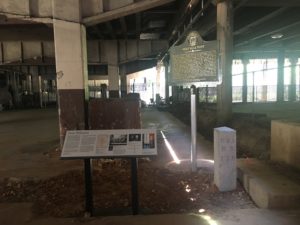 This week's #MarkerMonday explores the Zero Mile Post historical marker in Fulton County. This historical marker stands next to a replica of the Zero Mile Post. The original was moved to the Atlanta History Center in 2018 to ensure its long-term preservation and accessibility. The Zero Mile Post marks the southeastern terminus of the Western and Atlantic Railroad and represents the center of what is today known as Atlanta, prior to the city's massive expansion.
On December 21, 1836, the Georgia state legislature approved the construction of the Western and Atlantic Railroad from Chattanooga, Tennessee, to the Chattahoochee River, after Georgia was bypassed by the Louisville, Cincinnati and Charleston Railroad, a new railway from Charleston, South Carolina, to Cincinnati, Ohio. However, this effort was not completed due to a lack of financial support and cooperation. The Western and Atlantic Railroad was successful, giving Georgia access to the West by train, and would eventually extend to the Macon rail, which connected to Savannah, Milledgeville, and Augusta.
The original settlement at the end of the Western and Atlantic Railroad was called Terminus, meaning "end of the line," but was eventually changed to Marthasville in honor of Martha, the daughter of Wilson Lumpkin, former Senator, Congressman, Governor, and General Manager of the W&A Railroad. Marthasville was incorporated on December 23, 1843, but residents did not think the name was appropriate for an up-and-coming town. "Atlanta" was proposed by J. Edgar Thompson, chief engineer of the Georgia Railroad. He claimed it was the feminine version of Atlantic. It was incorporated as the City of Atlanta on December 29, 1847, and extended one mile in every direction from the State Depot. Today Atlanta continues to grow and remains a transportation hub that now extends around the world.
---
Explore the links below to learn more:
National Park Service – Western & Atlantic Railroad Zero Mile Post
New Georgia Encyclopedia – Railroads
New Georgia Encyclopedia – Wilson Lumpkin (1783-1870)
South Carolina Encyclopedia – Louisville, Cincinnati and Charleston Rail Road Company
Atlanta Magazine – Birth of Martha Lumpkin, Atlanta's namesake
GPB – What's in a Name?
Green Frog Videos – Atlanta Railroads their History & Story Pt1
City of Atlanta, Georgia – History