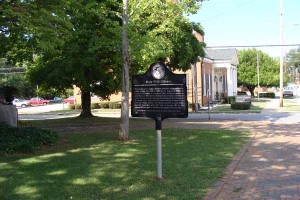 This week's #MarkerMonday shines a spotlight on the Mary Willis Library, Georgia's first free public library. Founded by Dr. Francis T. Willis in memory of his daughter, Mary, the library opened its doors to the public in 1889. As a native of Washington, Georgia, Willis wanted the library to be a gift to the people of Washington and Wilkes County. Rather than charging a subscription fee to gain access to the library, Willis created the library to become Georgia's first free public library.
An endowment for the library's continuation was created by Dr. Willis and members of Willis' family donated furniture and personal collections of books. His half-brother, Samuel Barnett, was the first president of the library trustees. Designed in the Queen Anne style by Atlanta architect Edmund Lind, and featuring a Tiffany Studios glass window, the library operated as a privately endowed institution until its incorporation in the regional library system in 1967. The Library was listed on the National Register of Historic Places, on April 11, 1972.
Top Image depicts sign over library entrance doors, take from larger image courtesy of David Seibert.
---
Explore the links below to learn more about the Mary Willis Library.
Bartram Trail Regional Library System: Mary Willis Library
Washington, Georgia: Mary Willis Library
Further Reading:
Newsome, Jane R. At Home in Washington-Wilkes, Wilkes Publishing Co., Inc., Washington, GA, 1986.