Georgia Historical Society Research Center Renovation
This slideshow requires JavaScript.
---
The Georgia Historical Society is pleased to announce that the GHS Research Center in Savannah is now open. The Research Center hours of operation are Wednesday to Friday, 10:00 a.m. to 5:00 p.m. and the first and third Saturday of each month from 10:00 a.m. to 5:00 p.m. We look forward to welcoming you to our new state-of-the-art facility.
If you wish to access archival material or rare books, research appointments are strongly recommended.  To make an appointment, email the library at library@georgiahistory.com or telephone at 912.651.2128.
---
Read all about the GHS Research Center renovation and expansion project in a special edition of Georgia History Today.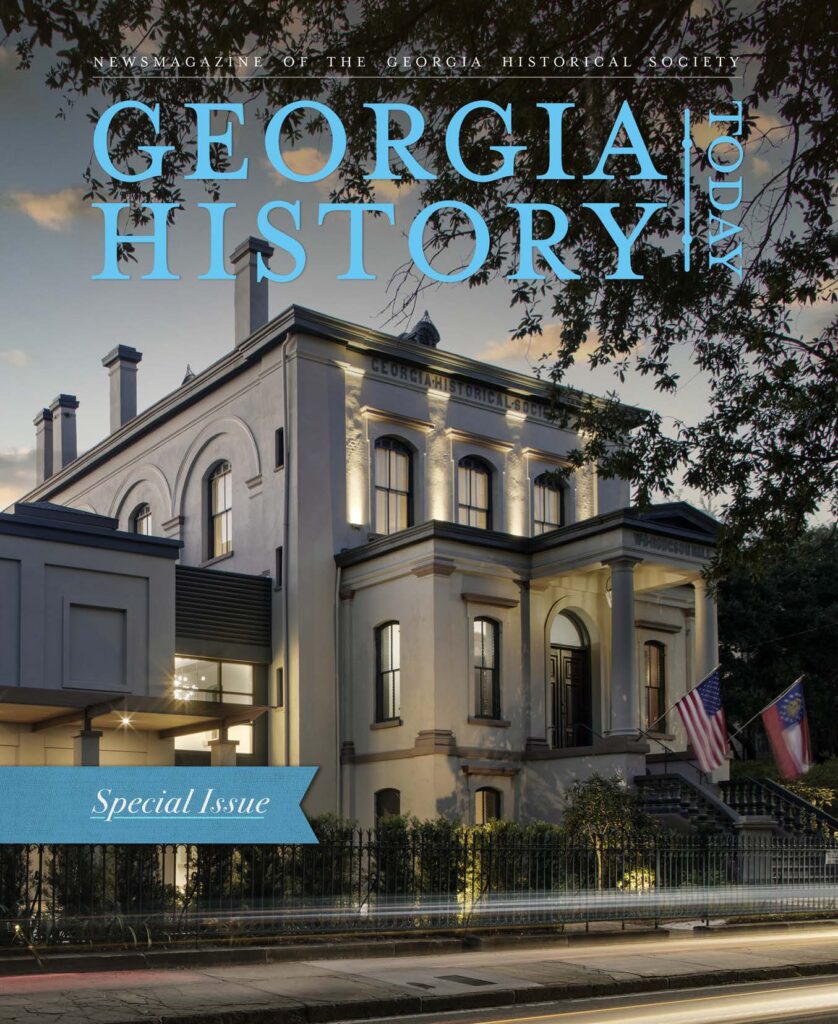 ---
GHS Renovation Supporters
In grateful recognition of those whose leadership, vision, and generosity have made possible the preservation of Georgia's documentary legacy for future education and research.
NON SIBI, SED ALIIS
$1,000,000+
Lettie Pate Evans Foundation
$500,000+
The Delta Air Lines Foundation
Beth and Tommy Holder
$250,000+
Frances and Beverly DuBose Foundation
Mr. and Mrs. Robert S. Jepson, Jr.
Mr. and Mrs. John F. McMullan
$100,000+
The Anschutz Foundation
Mr. and Mrs. Frank Blake
Correll Family Foundation
Mr. and Mrs. Patrick J. Haynes III
Williams Family Foundation of Georgia
$50,000+
Mr. and Mrs. F. Duane Ackerman
Mr. and Mrs. Larry Gellerstedt
Kaye and Don Kole & LeeAnn and Jeff Kole
Raymond and Karen Masciarella
Mr. and Mrs. John Morgan
$30,000+
Dr. Victor L. Andrews
Sis and Jim Blanchard
Sonny and Judy Deriso
Douglas J. Hertz Family Foundation
Mr. and Mrs. Mark V. Smith
Mr. and Mrs. Kessel Stelling
The Clyde C. Tuggle Family
Mr. and Mrs. Don L. Waters
$20,000+
The Broadfield Foundation
Shan and Eddie Cooper
Mr. and Mrs. George Fawcett II
Georgia Power Foundation
Brenda and Larry Thompson
$5,000 to $15,000
Patricia and John Dunleavy
Hills Family Foundation
John and Mary Franklin Foundation
Mr. and Mrs. Thomas V. Reilly
Mr. and Mrs. John L. Tucker
---
GHS Renovation Partners
The Georgia Historical Society is grateful to the following project partners that helped to complete the once-in-a-generation renovation and expansion of the Research Center. Their talented work and craftsmanship represent an extraordinary contribution to Savannah's architectural landscape while helping to preserve one of the oldest library buildings in the United States, located in Savannah's National Historic Landmark District.
We are deeply grateful for all that they have done to revive our historic headquarters, thereby helping GHS to continue to fulfill our statewide educational and research mission for many years to come.
Champion Fire
C.S. Hurd Electric
Dulohery Weeks
Hendrix Fire
Hutson Plumbing Co.
National Office Systems
S&S Mechanical
DeBorde Restoration
Interface
Longbeard Electric
McCarthy Lock
Savannah Cabinet
SC Datacom
Waters Construction and Concrete
Witmer Jones Keefer, Ltd.
—
Special Thanks
Michele Pacifico
Heritage Werks
Jordan Roth
Billy McIntosh
Bo Villanova
Designer Delivery
Wallace Milling
Re-enlighten Lamp & Chandelier Repair
Toole Sculpture Works
Frenchsteel.com
Laura García-Culler
Beth Robinson
Sherrie Breen