About the Research Center
The Georgia Historical Society is pleased to announce that the GHS Research Center in Savannah is now open. The Research Center hours of operation are Wednesday to Friday, 10:00 a.m. to 5:00 p.m. and the first and third Saturday of each month from 10:00 a.m. to 5:00 p.m. We look forward to welcoming you to our new state-of-the-art facility.
If you wish to access archival material or rare books, research appointments are strongly recommended. To make an appointment, email the library at library@georgiahistory.com or telephone at 912-651-2128.
The GHS Research Center preserves an unparalleled collection of Georgia and American history, the oldest in the nation, including more than 5 million manuscripts, 100,000 photographs, 30,000 architectural drawings, over 20,000 rare and non-rare books, and thousands of maps, portraits, and artifacts, representing the sweep of Georgia history from the founding to the present.
Among the nationally significant materials is an original draft copy of the United States Constitution, one of only 12 in existence; correspondence from Governors, U.S. Supreme Court Justices, and U.S. Presidents from Thomas Jefferson to Bill Clinton; the records of the Council of Safety that governed Georgia during the Revolutionary War; important documents related to the Cherokee and Creek Indians, including the papers of federal Indian agent Benjamin Hawkins, a Cherokee syllabary and newspapers, and records kept by federal commissioners during Cherokee Removal; documents on African-American history, such as slave records, Gullah-Geechee photographs, music, and oral histories, a growing collection of Civil Rights Movement records such as those of Rome NAACP president Ethel Hyer; the collection of Girl Scout founder Juliette Gordon Low; the World War II-era collection of journalist Lois Dozier Norvell; the papers of U.S. Attorneys General John Macpherson Berrien and Griffin Bell; and the collection of environmental activist and sustainability pioneer Ray C. Anderson, as well as the papers of early environmentalist and suffragist Helen Dortch Longstreet.
In the Vince Dooley Collection, you can see every letter that Coach Dooley wrote and received during his long coaching career at UGA, along with his busy calendars that track recruiting visits, like the one in January 1980 to Wrightsville to visit a high school senior named Herschel Walker.
The manuscript collection includes family papers, military records of every Georgia war, the papers of Georgia's major political leaders, colonial account books, diaries, plantation records, papers of women's social and cultural organizations, and business records ranging from the 18th through the 21st centuries.
The periodical collection dates from the 18th and 19th centuries, and the visual material collection includes an impressive variety of photographs and other images including portraits of many of Georgia's most prominent leaders.
---
A History of the GHS Research Center
For many people, the Georgia historical Society's Research Center isn't just part of the GHS headquarters in Savannah—for them it is the Georgia Historical Society. Even though GHS is a statewide institution, and a nationally recognized leader among public history organizations, the GHS Research Center remains for many the heart of the Society, a revered and beloved landmark on the southwest corner of Whitaker and Gaston streets, across from Forsyth Park.
For nearly a century and a half, this architectural jewel in Savannah's Historic Landmark District has housed one of the most unique and oldest collections of Georgia history in the nation. Comprised of historic Hodgson Hall (1876) and the attached Abrahams Archival Annex (1970), along with the new archival wing that dramatically expands storage capacity, each edition of the Research Center has been erected during a period of great change in our state and nation. Despite the ever-evolving political, economic, cultural, and social landscapes in Georgia, the Research Center has remained a foundational place for those who wish to better understand our state's fascinating history.
---
Read all about the GHS Research Center renovation and expansion project in a special edition of Georgia History Today.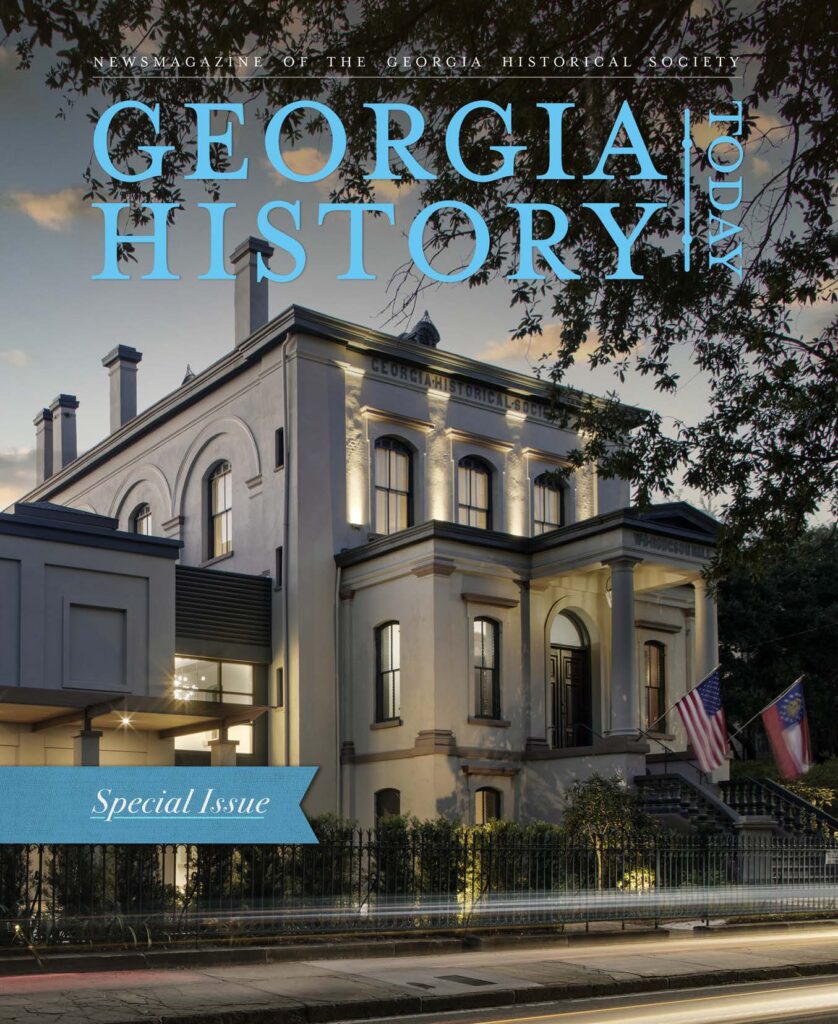 ---