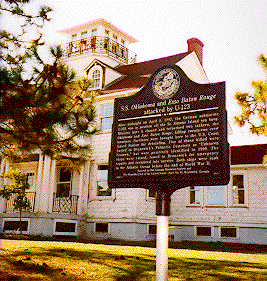 This week's #MarkerMonday discusses Georgia's reaction to the threat on its coastline by German U-boats during World War II. Prior to America's involvement in WWII, elaborate pre-war defensive measures of Georgia's coastline were enacted. These measures, which included nighttime blackout ordinances and antisubmarine patrols, were followed laxly. In the early hours of April 8, 1942, the German submarine U-123, was positioned off the coast of St. Simons Island. The U-boat spotted the large oil tanker, Oklahoma, silhouetted against the illuminated shoreline.  U-123 torpedoed and sank the SS Oklahoma before also sinking another tanker, the Esso Baton Rouge. A total of twenty-two crew members were lost, five of whom were buried in nearby Brunswick's Palmetto Cemetery.
Surviving crew members were brought to the U.S. Coast Guard Station on St. Simons Island, while both tankers were raised and towed to Brunswick for emergency repairs for re-entry into service. The U-boat attacks along the Georgia coast caused the state to panic, leading to rumors of a German invasion of coastal Georgia. In an effort to end U-boat threats to the U.S. Atlantic coast as a whole, the U.S. Navy adopted the British system of convoying ships and increased air and naval patrols. In Georgia, submarine-hunting blimps from Airship Squadron ZP-15 were stationed at Glynco Naval Air Station just north of Brunswick and constantly patrolled the Georgia coastline against further U-boat attacks. Due to the increase in defenses, U-boats did not come within site of the Georgia coastline for the remainder of the war.
Top Image taken from American Merchant Marine Recruitment Poster. Courtesy of the Library of Congress, Prints and Photographs Division, POS – WPA – NY .B877 no. 4
---
Explore the links below to learn more about the U-boat attack along the Georgia Coast and the efforts to protect the coastline during World War II.
FLETC: History of Glynco Naval Air Station
Further Reading
Ships of the Esso fleet in World War II. Flemington, NJ: Standard Oil Company, 1946.
Gannon, Michael. Operation Drumbeat: The Dramatic True Story of Germany's First U-boat Attacks Along the American Coast in World War II. Annapolis, MD: Naval Institute Press, 2009.
Higgins, Michael. Action in the South Atlantic: The Saga of Esso Baton Rouge and SS Oklahoma off the Georgia Coast on the Morning of 8 April 1942. Brunswick, GA: Propeller Club, 1999.