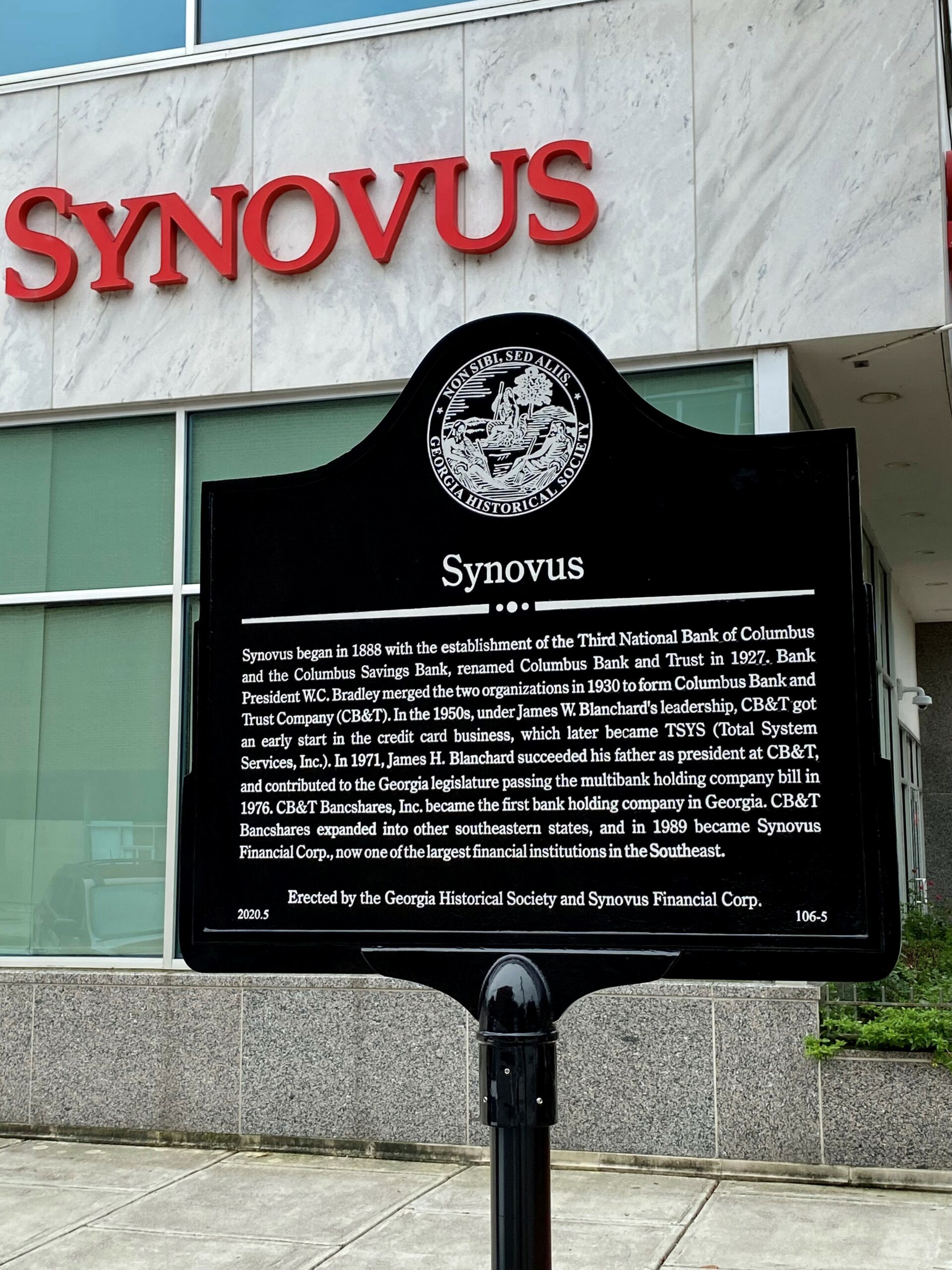 November 15, 2021, Atlanta, Georgia – The Georgia Historical Society (GHS) today recognized Synovus as the latest honoree in the Georgia Business History Initiative with the dedication of a new historical marker in downtown Columbus. The marker recognizes the broad impact of Synovus and its evolution from a Columbus-based institution to a financial leader in the Southeast.
"The Georgia Historical Society is pleased to recognize this iconic Georgia-based company and the lasting impact it has had on our state and nation," said Dr. W. Todd Groce, President and CEO of the Georgia Historical Society. "Banking has played a significant role in Georgia's history, and Synovus is a leader in the industry. So much of our state's growth is tied to the leadership the company has provided over the years. I'm excited about telling the Synovus story and teaching it to school children through our teacher resources."
Each year, GHS selects iconic companies in our state to be honored through the Georgia Business History Initiative. By showcasing these companies, GHS seeks to teach Georgia students, citizens, and tourists alike about the pivotal role of Georgia's leading businesses in the economic, cultural, and social development of Georgia and the United States.
Speakers at the dedication included Mr. Kevin Blair, President and CEO of Synovus; Mr. Kessel D. Stelling, Jr., Georgia Historical Society Board of Curators and Executive Chairman of the Synovus Board of Directors; Mr. Mark Holladay, Chief Risk Officer at Synovus; and W. Todd Groce, Ph.D., President and CEO of the Georgia Historical Society.
"Synovus is honored to be a part of the GHS Business History Initiative and recognized for strengthening communities throughout the state of Georgia," said Mr. Kevin Blair, President and CEO of Synovus. "Our humble beginnings date back to a Georgia textile mill and a simple act of kindness, and for more than 130 years, we've worked to deliver personalized financial solutions for individuals and businesses throughout the Southeast. We are proud to call Georgia home, and this historical marker is a strong reminder of the lasting impacts a foundation of integrity, character, and principle can have on a state and its communities."
In addition to the new historical marker, GHS has compiled a case study and company profile about Synovus outlining the history of the company. This educational resource for Georgia middle school students is currently available to educators on the GHS website. Through these educational resources, students can learn about Synovus and its role in Georgia and American history for generations to come.
The marker is located at the corner of Broadway and 12th Street in Columbus.
For more information about the Synovus historical marker dedication or the Georgia Business History Initiative, contact Patricia Meagher, director of communications at the Georgia Historical Society at 912.651.2125, ext. 153 or by email at pmeagher@georgiahistory.com.
The historical marker reads:
Synovus
Synovus began in 1888 with the establishment of the Third National Bank of Columbus and the Columbus Savings Bank, renamed Columbus Bank and Trust in 1927. Bank President W.C. Bradley merged the two organizations in 1930 to form Columbus Bank and Trust Company (CB&T). In the 1950s, under James W. Blanchard's leadership, CB&T got an early start in the credit card business, which later became TSYS (Total System Services, Inc.). In 1971, James H. Blanchard succeeded his father as president at CB&T, and contributed to the Georgia legislature passing the multibank holding company bill in 1976. CB&T Bancshares, Inc. became the first bank holding company in Georgia. CB&T Bancshares expanded into other southeastern states, and in 1989 became Synovus Financial Corp., now one of the largest financial institutions in the Southeast.
Erected by the Georgia Historical Society and Synovus Financial Corp.
###
ABOUT THE GEORGIA HISTORICAL SOCIETY
Georgia Historical Society (GHS) is the premier independent statewide institution responsible for collecting, examining, and teaching Georgia history. GHS houses the oldest and most distinguished collection of materials related exclusively to Georgia history in the nation.
To learn more visit georgiahistory.com.
---
ABOUT THE GEORGIA HISTORICAL MARKER PROGRAM
The Georgia Historical Society (GHS) administers Georgia's historical marker program. Over the past 20 years, GHS has erected nearly 300 new historical markers across the state on a wide variety of subjects. GHS also coordinates the maintenance for more than 2,100 markers installed by the State of Georgia prior to 1998. Online mapping tools allow users to design driving routes based on historical markers, and a mobile app helps visitors locate and learn about markers nearby. Visit georgiahistory.com for more ways to use Georgia's historical markers and experience history where it happened.
---
ABOUT SYNOVUS
Synovus Financial Corp. is a financial services company based in Columbus, Georgia, with approximately $56 billion in assets. Synovus provides commercial and retail banking and a full suite of specialized products and services, including private banking, treasury management, wealth management, mortgage services, premium finance, asset-based lending, structured lending, and international banking through 283 branches in Georgia, Alabama, South Carolina, Florida, and Tennessee. Synovus is a Great Place to Work-Certified Company and is on the web at synovus.com, and on Twitter, Facebook, LinkedIn, and Instagram.