In this edition of the online research blog series, we will discuss the GHS Archival Collections Finding Aids and the kinds of records available through it. This series explores the different platforms available to researchers through the GHS website and how to best utilize them when conducting research.
The Archival Finding Aids is a database containing over 2,000 archival collections held by the Georgia Historical Society. Archival collections can include family and personal papers, military records, records of social and cultural organizations, and business records documenting the history of Georgia from the 18th through the 21st centuries. Some finding aids include links to original items that have been digitized. Material that has been digitized can also be viewed in the GHS Digital Image Catalog, as discussed in previous editions of this series.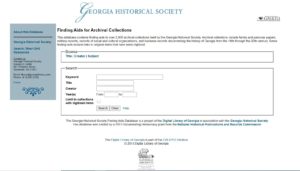 The Archival Finding Aids allow researchers to browse collections by title, creator, and subject. This is a wonderful tool for those interested in simply viewing the collections that GHS has to offer. Researchers can also search for a specific topic or collection using the "Search" function.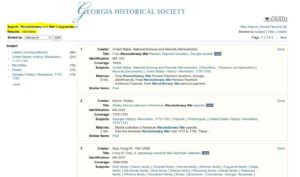 Collections records found in the Archival Finding Aids contain notes about the scope and content of a collection. This information is an excellent resource to determine what sort of material is available for research in the collection. In our next edition, we will discuss how to use the Archival Finding Aid search option and review the material displayed in records found through the search.